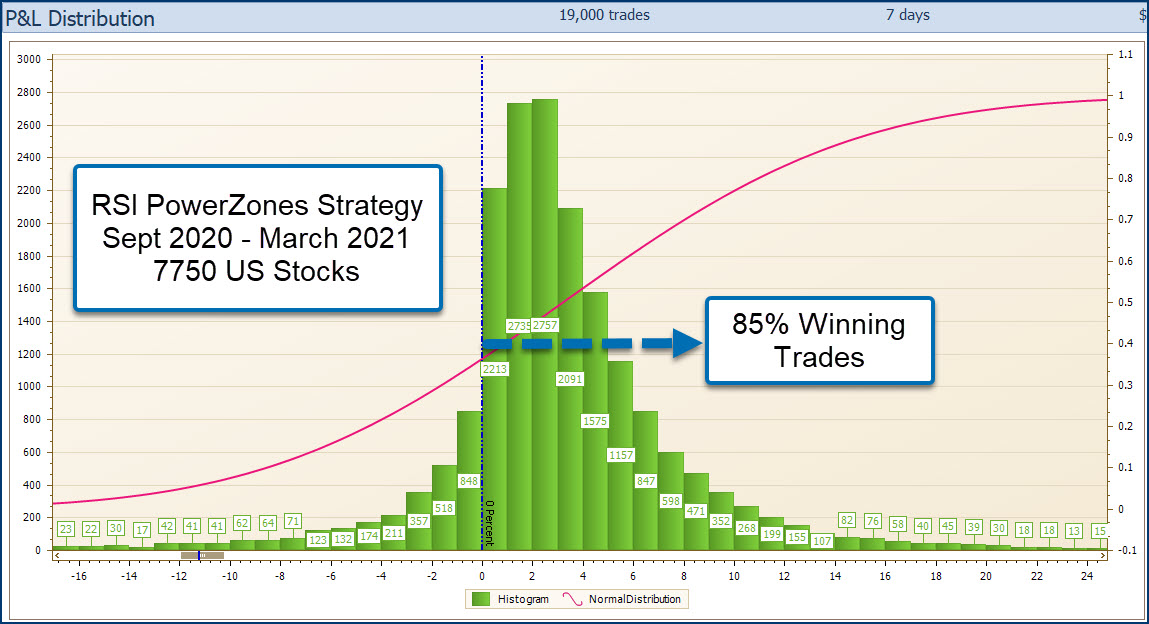 Market's Cycle
We all know that markets progress through different phases and cycles and that there is no technical trading strategy that works over all stocks for all phases. The search for such a strategy is known as the search for the holy grail and many would-be traders never get beyond the frustration of the never-ending quest.
What you have to be aware of is what is working right now and be willing to adapt your methodology to the current market conditions.
Of course that's where EdgeRater comes into its own and allows you to easily discover what's working and what's not.
What's Working Now
For the past 7 months from Sept 2020 to March 2021 the market has been in a buy-the-dip mode and the strategy that has been working is the RSI PowerZones strategy which buys when RSI4 is below a certain threshold and buys one more time if RSI4 drops below a second threshold, selling if RSI4 breaks above a third level.
Take a look at the above picture. It shows that over all 7750 stocks in the test, there were 85% winning trades. The histogram is well and truly skewed to the right.
At some point this market mode will change and another strategy will shine but for now RSI PowerZones is king.
Helpful Video
To find out more about RSI PowerZones and my testing, take a look at last weekend's video: