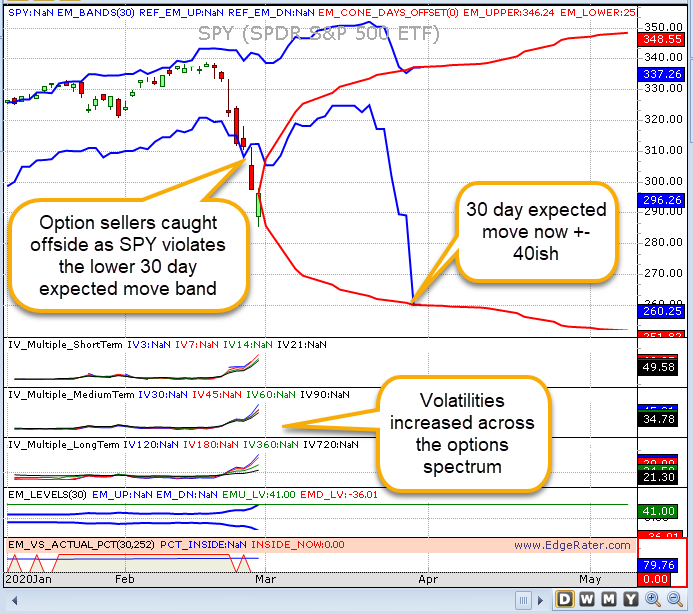 Last week was a volatile one in the markets as the S&P500 index ETF (SPY) gapped down on Monday and continued to sell-off all week.
The ETF hovered at the 30 day expected move lower band on Tuesday and Wednesday and then gapped down through it on Thursday and sold off even more. Friday was another gap lower but did see a rally back to near Thursday's low.
Volatilities across the option spectrum all increased significantly and in particular the 30 day implied volatility (VIX) reached a level not seen since February 2018.
SPY has gone from having a 30 day expected move of +-17 last Friday to now having a 30 day expected move of +-40.
SPY is now back to October 2019 levels, from where it took a 4 month escalator ride up to the high and and a 7 day express elevator ride back down.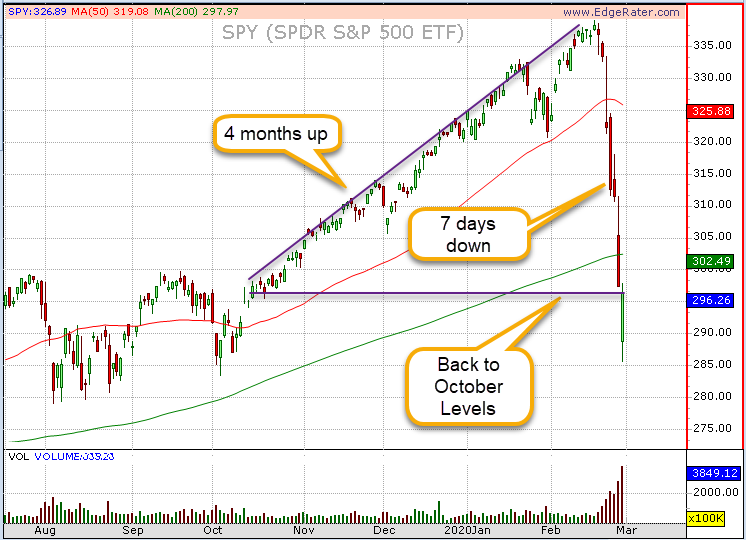 What to Expect?
Keep an eye on the volatilities of the short medium and long term options (top chart). There is more perceived risk in the markets right now and the options are predicting a move of +-40 over the next 30 days.
Taking a longer view, the 1 year expected move bands were violated to the upside in November 2020 and SPY is now squarely back inside those bands. Statistically the bands should predict a 67% chance of price ending up between them. So far over the past year SPY has ended up between the 1 year bands approximately 81% of the time, indicating that the 1 year to expiration options are usually over-priced. The 30 day to expiration options are similarly overpriced as price has ended up between those bands 79% of the time in the past year.
Take the EdgeRater Trial
All of the above charts were produced using EdgeRater PRO desktop software and you can take a free 14 day trial today.